Bel Mondo - Twin Bunk Bed with Sofa, Table and Trundle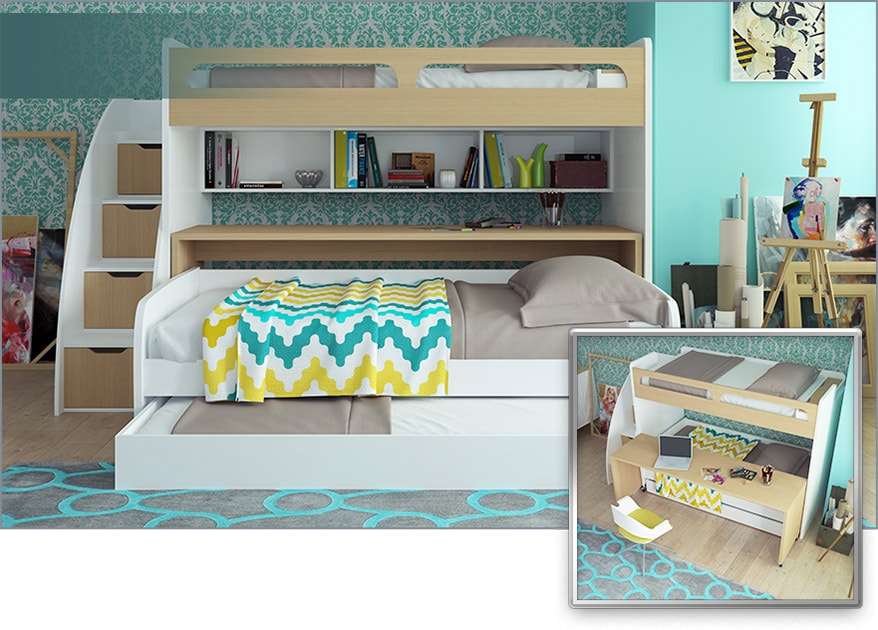 Bel Mondo
Multi Twin Bunk Bed with Sofa, Table & Trundle
Stunning, durable & versatile - 4 in 1 Specialty Bunk Bed
The contemporary Bel Mondo murphy-style bunk bed is the space saving, sleeping, working and storing solution for 2017.
Finally, you can maximize the potential of your space! Living in a studio apartment, loft or small condo? We are perfect for you!
Spare room that needs to be both a guest room and home office or den? No problem - the Bel Mondo delivers! Create two rooms in one with Bel Mondo.
Made in Europe with high quality materials to ensure longevity and pristine craftsmanship.
4-in-1 Bunk Bed
1. Converting Upper Bunk - Twin XL or Twin with storage!
2. Converting Twin XL Middle Bunk to Sofa with Cushions!
3. Modular Desk & Bookcase - Easy roll out and lots of storage!
4. Additional Twin Bed or Storage in roll out trundle!
Storage steps are not included.

European Made, Engineered to Last
Available in 3 Colors:
Hidden Top Storage
As Upper Bunk Headboard
Compact & Ergonomic Design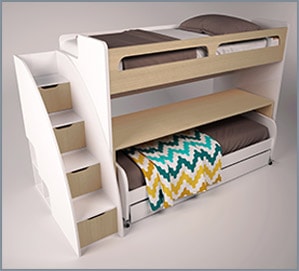 Space Saving Multi-Functional Unit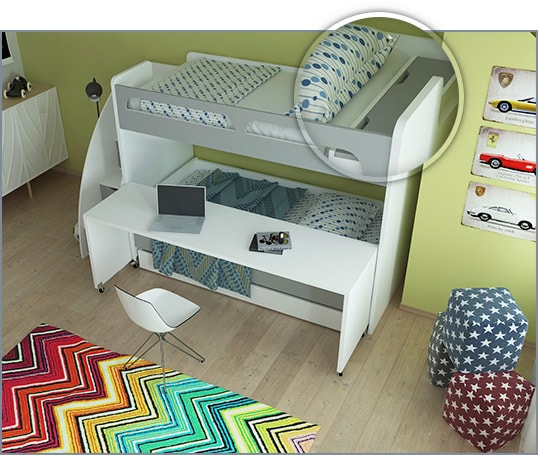 Consider the following:
The top bunk can hold a Twin mattress with the storage unit. Removing the hidden storage allows the top bunk to accommodate a Twin XL mattress.
2
Roll-Out Twin XL Sofa Bed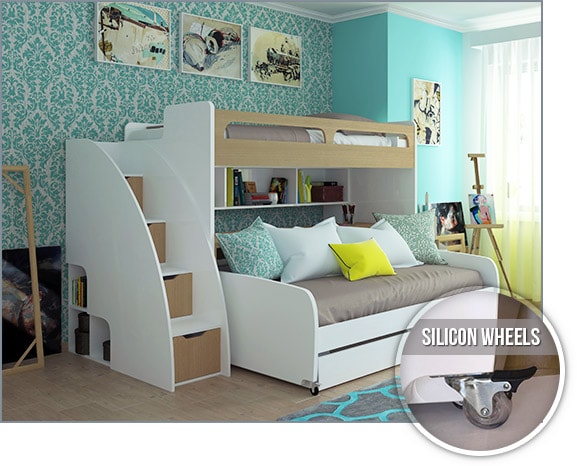 The middle bunk is a sturdy roll out Twin XL that in seconds becomes a Sofa. Complete the look with optional zipper mattress cover and matching high grade, molded foam cushions. Also featuring easy open pull out and sturdy silicon wheels - safe for even the most sensitive floor.
UPGRADE WITH A SOFT, RESILIENT ZIPPER MATTRESS COVER & MATCHING SOFA CUSHIONS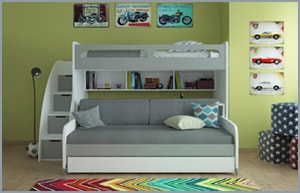 Table converts to shelf or can be pulled out and moved
3
Functional Desk and Storage
Free-Away
Roll-Out
System
Modular pieces can be moved in and out as needed and with little effort. The Bel Mondo can transform to match your needs!
Inner Shelving = Extra Storage
bel mondo comes with ladder. add on the optional storage steps shown for additional space and utility. more info below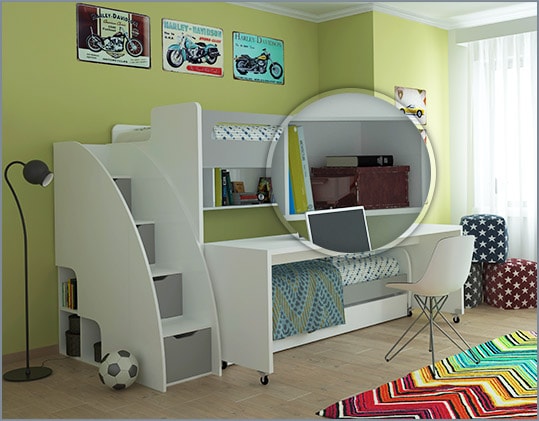 Roll out Trundle grants third bed or additional storage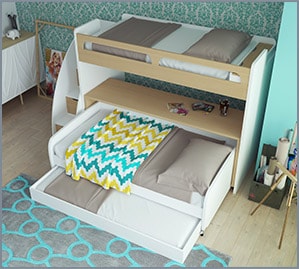 Made in Europe for You
Designed for Years of Use
High quality materials meet the finest in European engineering and styling to bring a quality, contemporary and multi functional bunk bed into your home.
our panels are substantial: 1.2" panel thickness equals double the normal thickness! our stronger panels are then coated with top grade gloss laminate
Design meets or exceeds TUV GS (European) standards for security, health, and ergonomics.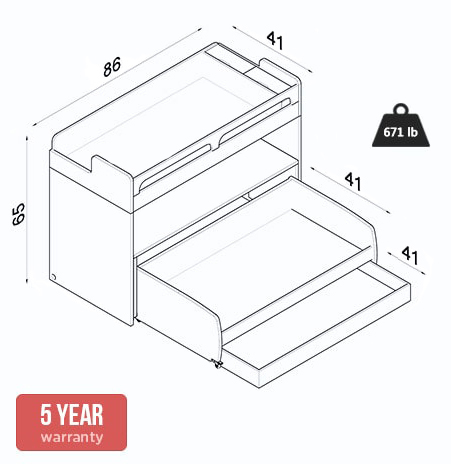 Twin or Twin XL
Upper Bunk
6"
Upper Bunk can hold up to
400lb
TESTED
220lb
is the recommended capacity for daily use
Bed Closed:
65" H x 86" W x 41" D
Bed Open with Folded Trundle:
65" H x 86" W x 82" D
Bed Open with Unfolded Trundle:
65" H x 86" W x 123" D

Included with purchase:
1) bel mundo multi twin bunk bed
2) matching roll out desk & bookcase
3) rolling twin trundle & storage
4) sturdy metal ladder with caps and grips
Optional Additions:
1) storage stairs with drawers and shelves
2) 2 sofa cushions with matching zippered mattress cover
3) mattress
Mattress Height of 8" is recommended
Product Details
Product Dimensions
Bed Closed: 65" H x 86.06" W x 40.87" D
Bed Open with Folded Trundle: 65" H x 86.06" W x 82" D
Bed Open with Unfolded Trundle: 65" H x 86" W x 101.37" D
Desk: 29.62" H x 83" W x 23.5" D
Optional back cushion: 17" H x 37" W x 7" D-Bottom / 5" D-Top (each cushion)
Optional zippered mattress cover: 8" H x 77" W x 38" D




Bed Size: Twin XL

Bunk Size: Twin

Trundle Size: Twin

Maximum mattress height is 8 inch

Memory foam mattress recommended


Weight: 670.9 lb

Storage steps are not included.

Real Room Pictures
Click for Gallery
Assemble required
Yes - PROFESSIONAL ASSEMBLY RECOMMENDED
Assembly instructions
Material

Construction material: 3/4 and 1 3/16 thick E1 certificated High Gloss Laminated Chipboard.


Features

• Price includes metal ladder


• Mattress position guards

• Multi-functional transforming, ergonomic and compact:

• Roll-Over Table and Bunk, Sofa and Bunk, 3 Twin Beds or 2 Twin Beds and Trundle Storage

• Roller pulled out table

• Roller stoppers

• Roomy inter shelves

• Innovative heavy duty hardware

• Single hand soft opening/closing

• Can be used for commercial applications

• Made in Europe.

• Technical design appropriate to TUV GS (European) standards, including security, health, and ergonomics.

Origin
Europe